Although the business cards were gone by the end of the night, the memory of how good they tasted was not!
Rather than give out traditional business cards at their event, a catering company named Six Taste teamed up with Israeli ad agency Addict-tiltan to create something that would leave a more lasting impression in the event-goers' minds. Instead of serving dessert at the end of the night, they served up edible business cards! These cards were made out of chocolate and printed with Six Taste's name, logo, telephone and fax numbers. The ad agency admitted that at the end of the evening when all the cards had been eaten, it was unlikely that anyone would remember the contact details from the card. However, they said that wha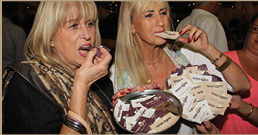 t people would remember was the fact that even Six Taste's business cards were delicious!
This marketing method is based on the idea that creating a positive and memorable impression of your brand can sometimes be more helpful than just gaining brand exposure. If you would like to promote your business using a similar method, take a look at our chocolate range, where you will find standard and bespoke options for your branding. Or, if you would like to promote with a gift that is both memorable and long-lasting, why not try a mint business card that can be used again and again? However if sweets aren't really your thing, there are plenty of other business card alternatives to choose from!