Sports awards can be used as prizes at sports days, presented at elegant award ceremonies and used to reward loyal, sport-loving customers. And of course they are especially appropriate for sports businesses.
Glass sports awards look beautiful and have a high-perceived value, so are perfectly matched to sophisticated brands and events. All of the sports glass awards detailled below have a sporting design, which clearly convey their purpose and theme.
Read on to find out all your options for glass sports awards and their distinctive features.
Golf Ball Drinking Glasses
There are different types of engraved drinking glasses, including tankards, tumblers and high ball glasses. Golf ball drinking glasses have a golf ball moulded into the base that gives them a unique and sporty look.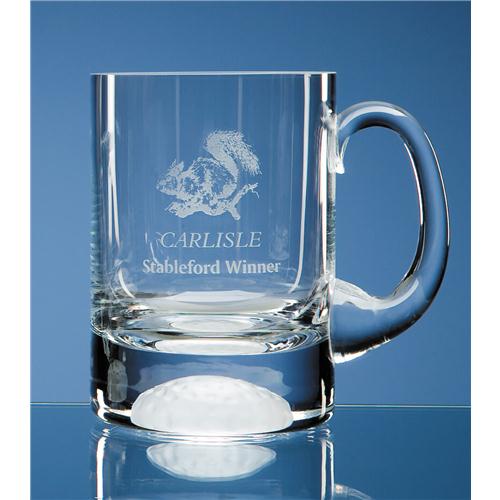 Different styles of drinking glasses come with different price tags, so you have plenty of options
Drinking glasses can be made from crystal as well as glass, and can be engraved with your logo and branding. The glasses come with satin lined presentation boxes, which can be bespoke made to suit your brand.
Engraved Bowls
A crystal footed bowl is a more lavish award that can be used to hold sweets or another gift or prize. Like glasses, bowls can be engraved and presented in refined boxes. They make lovely ornamental items for a mantelpiece or desk.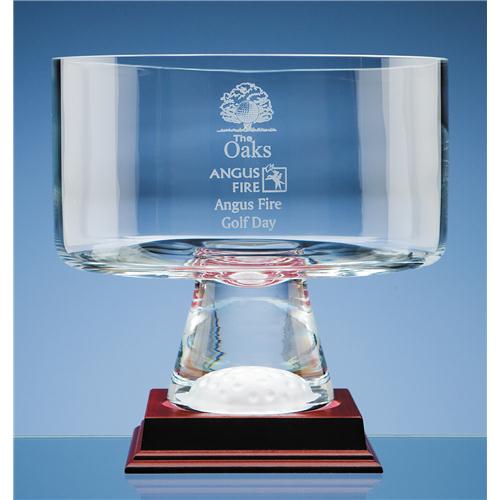 Glass and crystal bowls are bulky items so you should consider how you are going to transport them to your venue
Some glass bowls also have a golf ball moulded into the base to show off their sporting theme. These bowls, being versatile items, are appropriate for lots of different recipients, including retiring employees who might have a penchant for golf.
3D Optic Blocks
A perfectly clear crystal block, sub-surface engraved with a sports related design is an ideal award for sports fans. Recipients will be impressed by the detailed design and proud to display it in a trophy cabinet, where the eye-catching design will attract lots of attention.
Optic blocks look even better when presented on a wooden base
Other optic block designs include golf players, horse riders and race cars, giving you a wealth of choices. If you run a horse riding school, present winners with beautiful horse-engraved optic blocks at competitions.
Crystal Decanters
A crystal decanter can be used as an award, or can be a functional item at an event used to pour wine. Decanters are more expensive items which makes them ideal for sophisticated evenings and for rewarding significant achievements.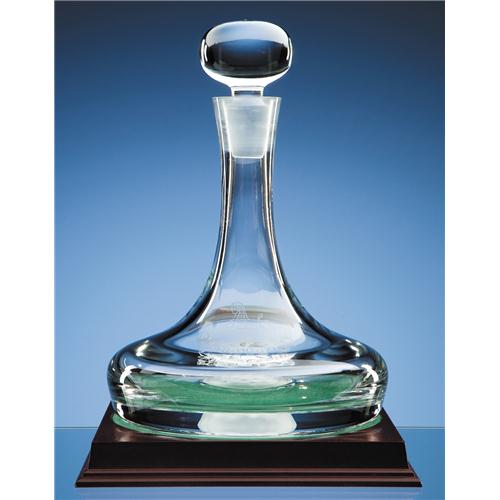 Decanters can also have a golf ball design in the base to make them more sporty
A decanter with a wooden base makes it more of a decorative item. Engrave your decanter and present it in a leather-look box to make it that bit more special.
Crystal Vases
A crystal vase is just that bit more special than a glass one as it can be host to more ornate designs and has a greater clarity. With or without a wooden base, vases are lovely ornamental items that look great with some subtly engraved branding.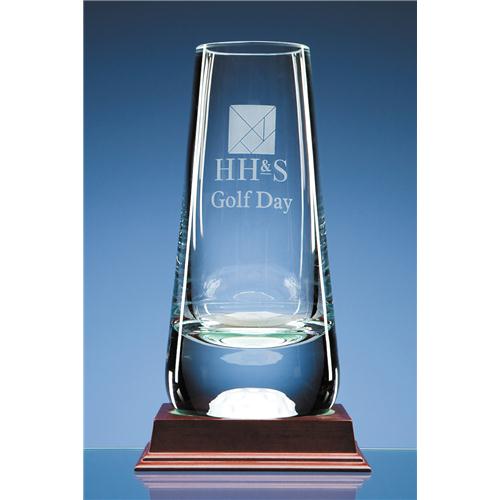 Like many of the sports glass awards, vases can also come with golf balls moulded into the base
You could present your vase with flowers inside if you are hosting a particularly prestigious sporting event or the award itself represents a special achievement.
If you are still unsure about which sports award to go for, or would simply like to know more about the range, we're happy to answer any of your questions over the phone on 01204 577 995.