Promotional Products Expo came to Coventry yet again this January 2017. The show is a great opportunity for us to see new corporate gifts launches and introductions to new printing processes. The manufacturers we work with are forever updating their machinery and ranges to cater for this ever-changing market. This year's visit allowed us to keep in touch and refresh our knowledge to provide the best service and advice to our clients.
As always, the exhibition has been full of new products and processes that we duly noted and catalogued. It is truly an exciting year ahead of us. Browse our gallery below, full of our favourite pictures from the show.
Promotional Pens
New styles featured heavily among all pens manufacturers. Some of them extended the colours for their most popular ranges or increased branding area with new machines to allow even more versatility for your designs. There are styles of pens that can be pantone matched from as few as 500 pens. Let us know your pen requirements and we'll be happy to suggest the right pens for you.
Worth paying special attention to is the Belt Pen that features an elastic band instead of a clip. This makes it practical to use on the go with a notebook, as you can use the pen to tie your notebook together to keep it closed.
Another style has a dent next to where the clip is, so you can use it as a convenient phone stand. Another side of the clip has a screen cleaner built in to make the promotional item even more multifunctional. There are a few versions of this pen now available, at different price points, to suit campaigns that use corporate gifts as well as promotional giveaways.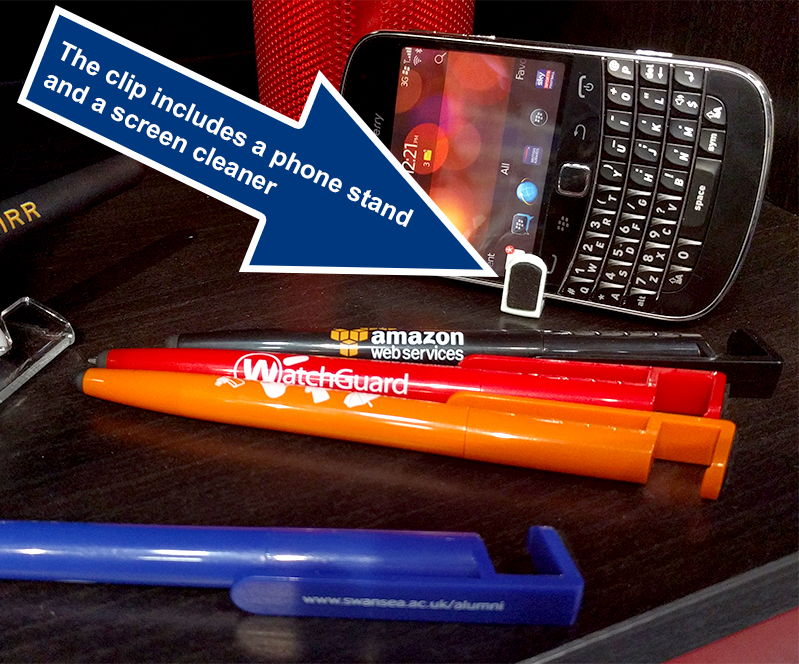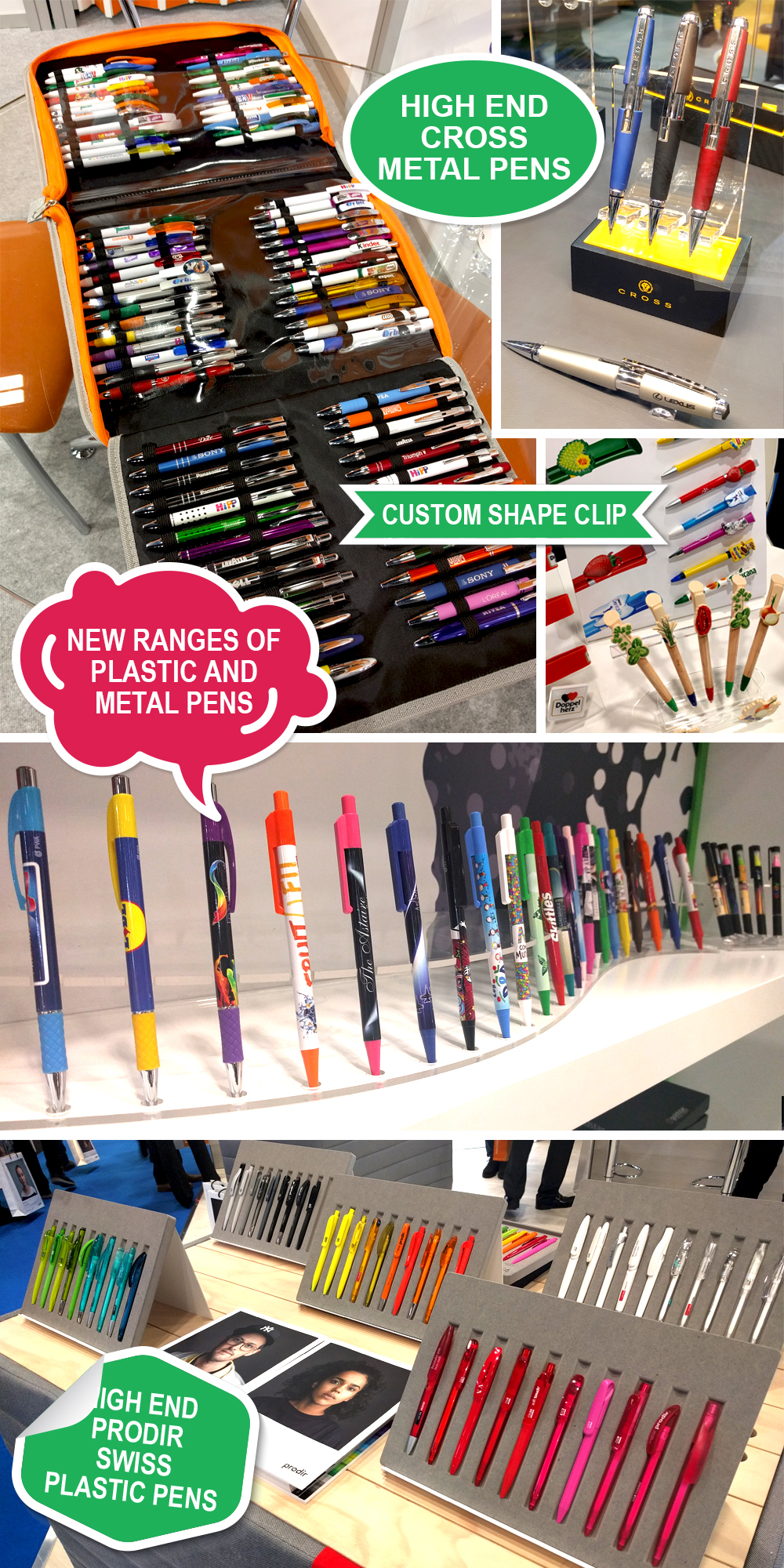 Custom Power Banks
As power banks are still some of the most popular items, there were several new styles on display. Have a lokk at the few of them below that captured our attention.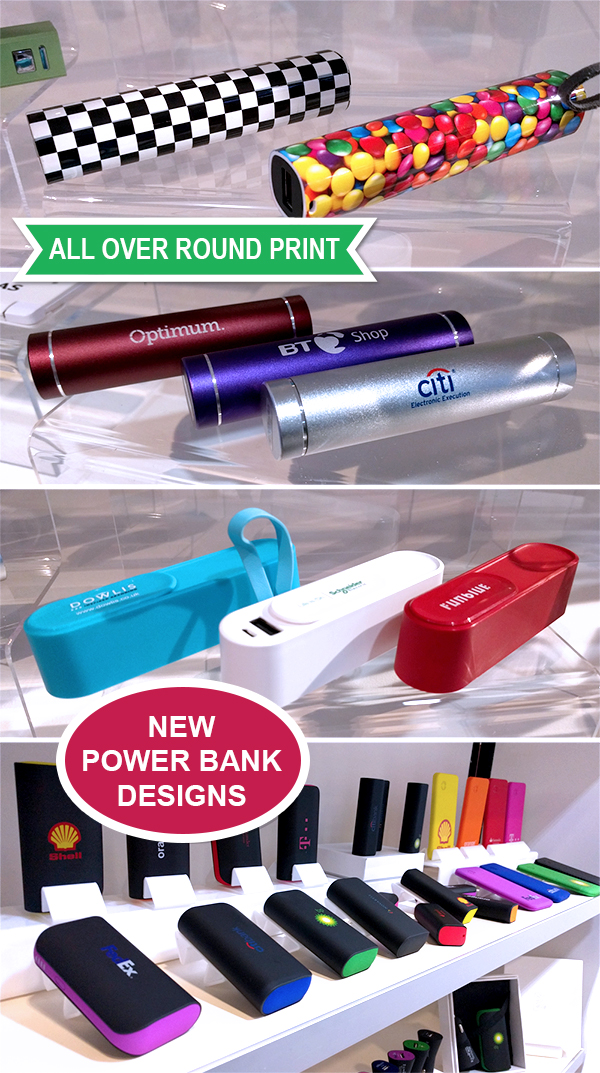 Exceptional Awards
In addition to the classic crystal and stone awards, a prominent addition were the new crystal awards tht can be die cut to a bespoke shape and printed in stunning full colour print with exceptional detail. They look truly gorgeous and, up close, they look even higher quality than in the pictures. What may be deceptive is the feeling that you get when you hold one of them. They are incredibly heavy, adding to the perceived value. They are the perfect choice to showcase your brand in style. Printing is available on both the vertical and horizontal element of the award and we can produce truly unique pieces as one-off items, complete with individal names and writing.
Another eye-catching award type was the 3D printed award. The technology has truly improved now since the time it was first introduced a few years back. 3D printing now provides crispier results and it allows you to develop an award in any shape, and in any colour.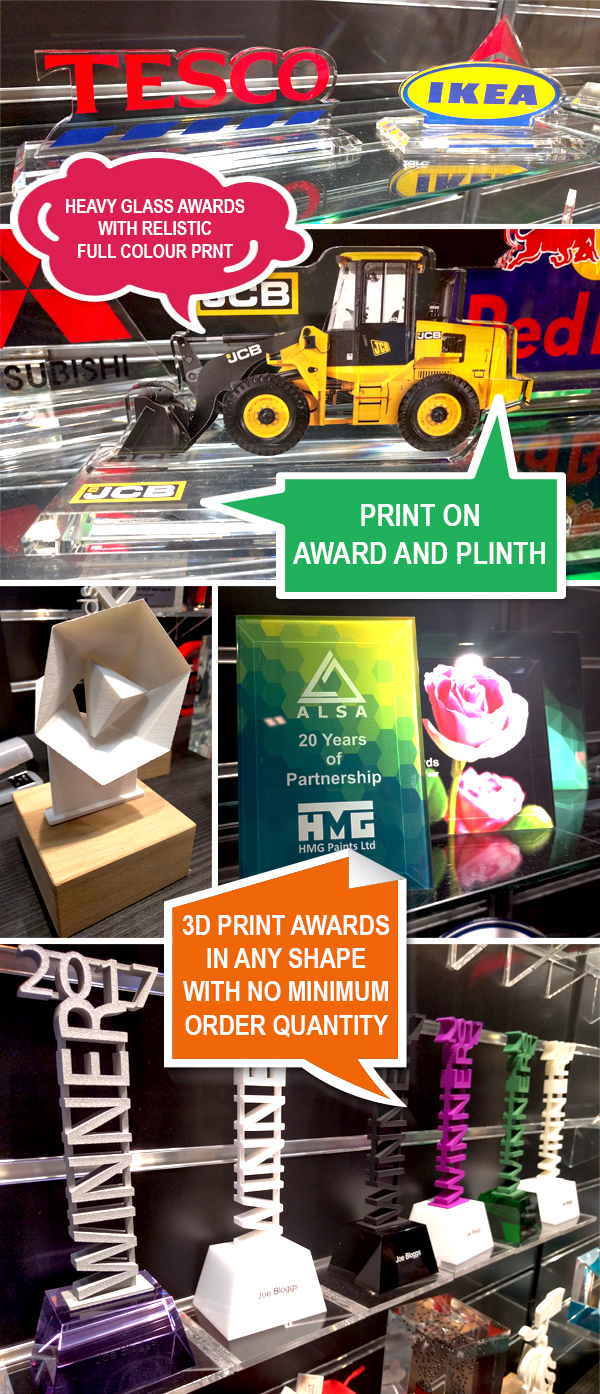 Other Promotional Items We Saw
As we trudged through the hundreds of pictures we took, it was hard to pick just some of them to showcase here. Below is our best attempt at some extra products that we felt will become popular in 2017. Enjoy!
If you would like more information or would like to order any of the items shown, get in touch. Call 01204 577 995 or visit our catalogue.
First up are the ever popular sports water bottles. They can now be branded not only with a printed design, but also with moulding - to make your bottles extra special and long-lasting. As always, they come in a large range of standard colours and our clients can mix and match the colours and types of all bottle elements to go with their brands. Achieve a subtle, classy effect by using just moulding, or go all out by combining moulding and print.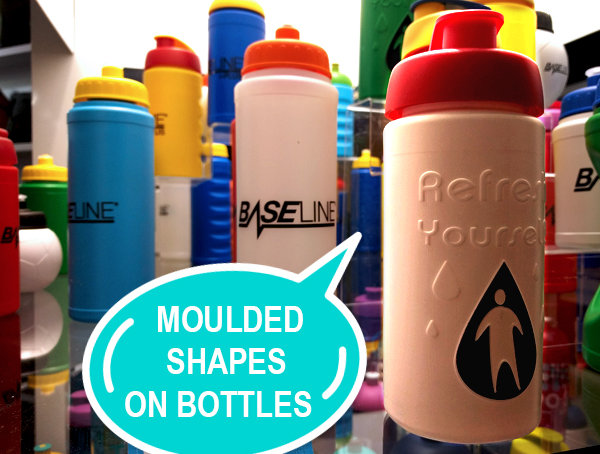 We were wowed by exceptional craftsmanship on these corporate rucksacks. There are several colours available, to truly bring out the colours of your brand. This makes these bags beautiful, practical and on-brand - all at the same time!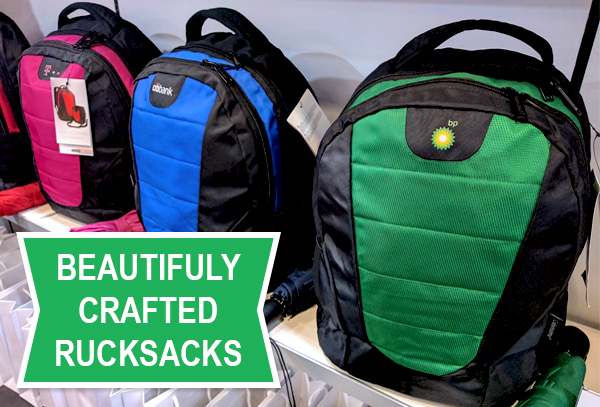 Notebooks are popular and versatile gifts. These notebooks by Castelli are more unique than most as there's so many ways to make them personalised.
The covers below are matt black and printed using UV print technique that makes any colour appear glossy and more vivid. The inside of each item has a printed first card to reinforce the brand. The notebooks also feature pen loops with printed promotional pens.
On top of all this there is the card box packaging. The box is embossed and colour-filled with the brand logo and each notebbook is tucked inside a coloured tissue paper that matches the brand, the pen and the elastic band that is used to keep the books closed.
Surely, anyone receiving a corporate gift like this will feel special and valued. If you are interested in high-end gifts like this, let us know and we'll combine together the best personalisation options to go with your brand.
The mugs below completely blew our team away as the regular dye sublimation print was taken to a whole new level. The full colour print was wrapped not only around the body of the mug (edge to edge) - and not only on the handle - but also on the bottom of the mug. If your organisation likes to feature beautiful, photographic images as part of their branding, this mug will be the perfect canvas for your print. If you need a visual of what your mug could look like, get in touch.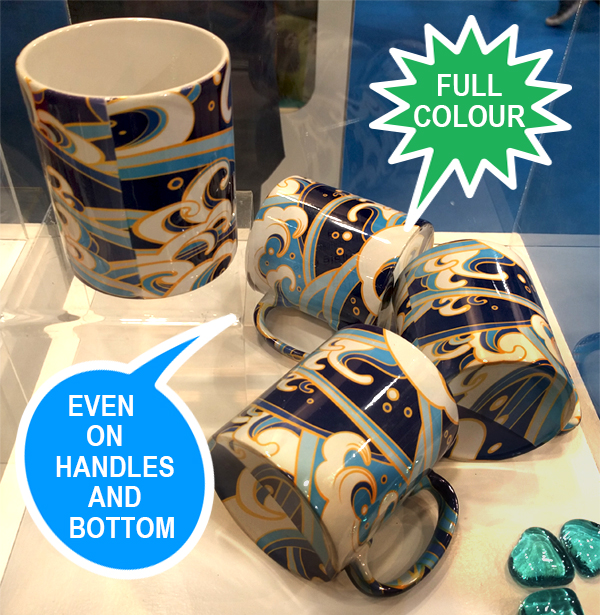 Printing on chocolate is not a new thing but we were still impressed with the quality and different ideas for the products used. The chocolate box produced for British Airways was simply stunning.
Printed biscuits were a great novelty. They are packaged in transparent foil to showcase the print. They were a fantastic talking point!
Another item that caught our eye was the new mint tin. It featured an embossed pattern that would look great with many logos.
All of these are available from us now with your logo so let us know your requirements.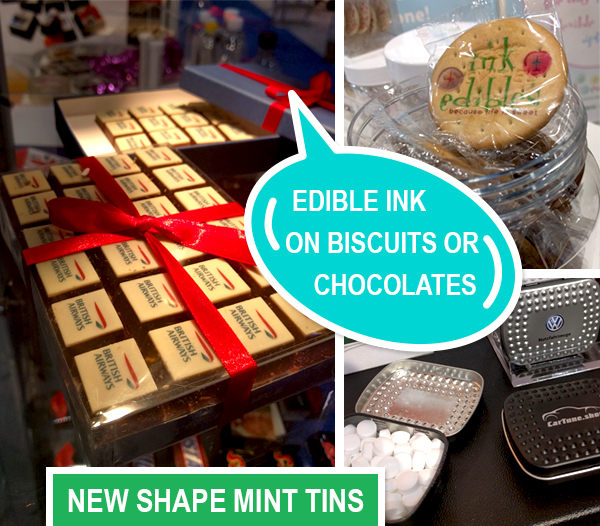 The folder below was designed specifically for the technology-savvy business person. It features all the pockets and attachments you'd need if you wanted to make use of your tablet and mobile during your business meetings.
There is a tablet pocket and stand - great for displaying a presentation or video to a client.
The mobile phone pocket is made from a special material that allows you to use it with your fingers while it's still inside.
There are also various loops that can easilty hold USB flash drives, power banks and other accessories.
A mesh pocket is handy for keeping cables.
The features that remain unchanged from classic folders are credit card and business card slots, pen loop and lined A4 pad.
The new tech folder can be printed with any logo in up to full colour.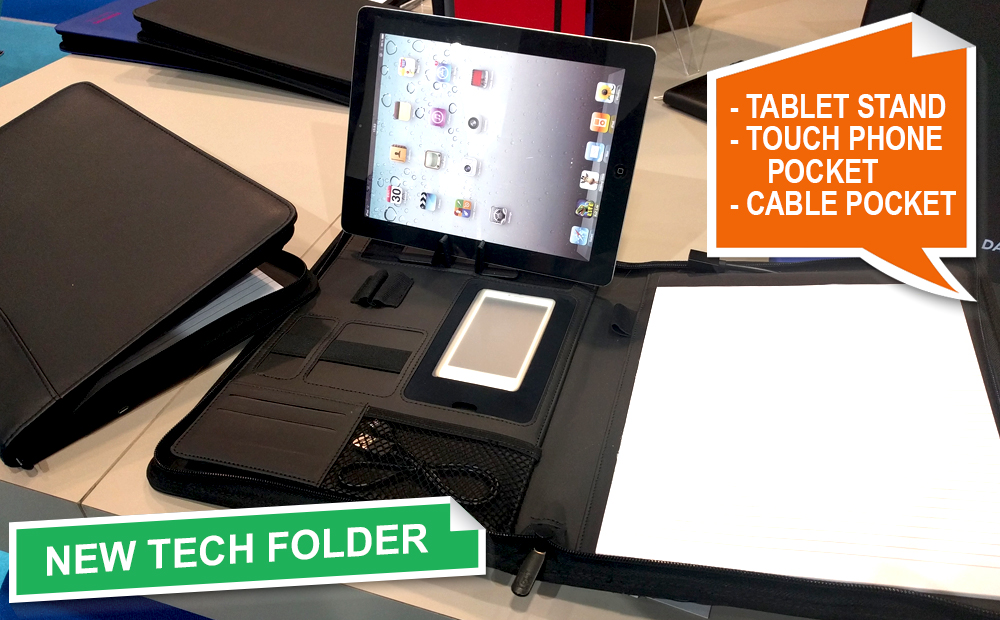 Virtual Reality phone holders started becoming popular last year with a few models hitting the market. More and more styles are available now, ranging from high end items, to plastic holders, to cardboard ones. The latter are a great option if you want to indlude full colour, all over print.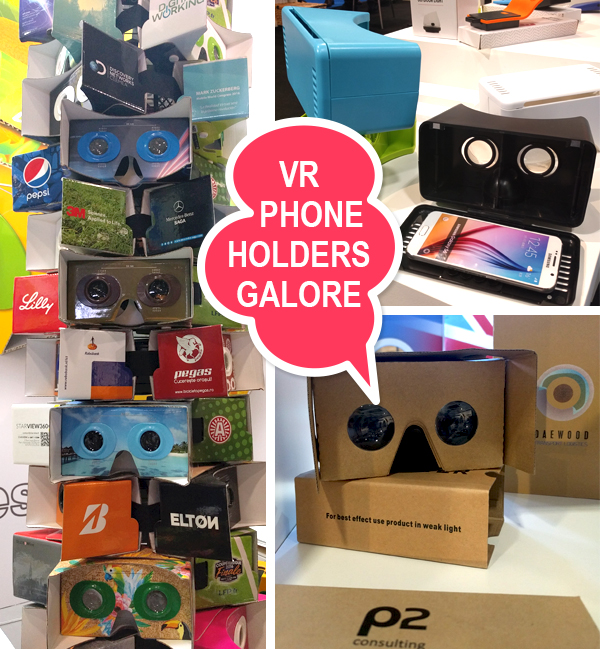 We were really pleased to have won a teddy bear with a printed t-shirt in our corporate green colour. In fact, this bear comes in many different colours - to suit a variety of brands.
What did we win it for I hear you ask? Well, our MD, Ben, solved the brand new pentagon Snafooz puzzle. Snaffoz puzzles are foam plates with shapes laser cut inside. When you push these shapes out, you can arrange them together to create a cube - or a pentagonal prism (we had to look up this name).
Both bear and snafooz are in the picture below!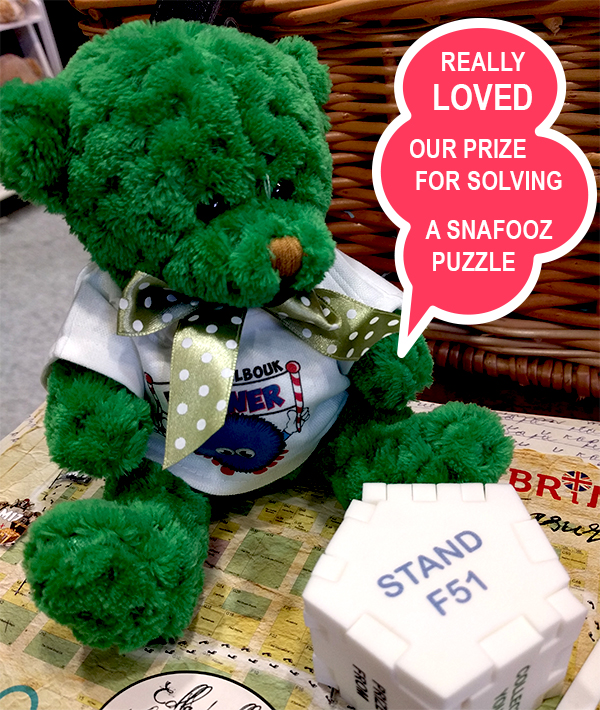 If we hadn't been spoilt enough, each of out team received a personalised coaster at another stand. The coaster is packaged in a card that looks like a side of a brick wall. The coaster has a blue plaque inspired design, complete with the name of each team member. To make the treat even sweeter, there was a hot chocolate on the other side of the card! Yummy!
If you'd like to treat your clients or staff member to individually printed coasters, they are available now - let us know your ideas and we'll help make them become reality.