KitKat wanted to encourage people to put down their phones and reconnect over their new product, the eleven fingered KitKat block, so teamed up with J Walter Thompson to come up with a marketing strategy to do just that. They created the KitKat mobile parking lot, a simple piece of cardboard packaging designed to look like a carpark, where people could place their phones whilst taking a break.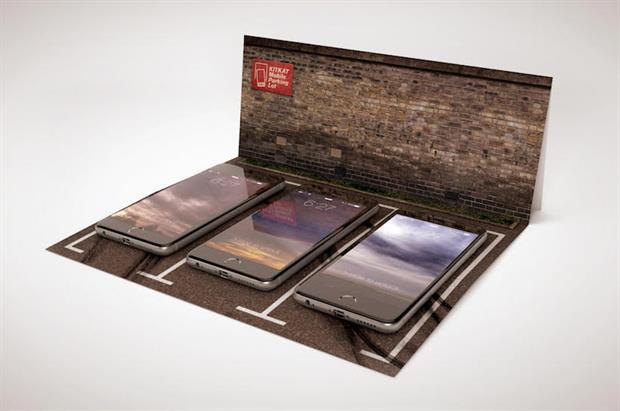 The parking lot used photographic images of an actual carpark, with spaces just the right size for smartphones
KitKat mailed out the mobile parking lot with their new Snap & Share chocolate biscuits to 120 exciting new businesses up and down the UK, including Skyscanner and Spotify, encouraging the workers to park their phones, take a break and enjoy some KitKat.
The Snap & Share KitKat bar was shared out amongst office employees to get them chatting and relaxing on their breaks, instead of engrossed in social media
We love that this marketing campaign took advantage of the rise of social media in a different way, inspiring people to have a breather from the digital world and enjoy some real-life conversation instead. Plus, the marketing materials here are very affordable and easily distributable, so making this an extremely clever promotional campaign.