Creating a welcoming office environment for clients is key to giving them a positive impression of your brand and ensuring that you benefit from their repeat custom and loyalty over time. Having promotional sweets in the office reception that clients can see and help themselves to is a great way of immediately creating a friendly and comfortable atmosphere so that your visitors feel relaxed and like they are being taken care of.
These kinds of promotional sweets are usually small, kept on your reception desk and can be accompanied by a sign letting clients know to help themselves. Some of the best options for this kind of promotional sweets are listed below.
Flow Wrapped Sweets
Individual flow wrappers can contain a range of different types of sweets, including hard boiled sweets, fruit drops, liquorice and jelly sweets. One of the best features of individually flow wrapped sweets is that your branding can be printed on each one, and on both sides of the packaging, so ensuring that your logo is seen. They are ideal for keeping in a bowl that visitors and clients can dip their hands into, as the individual wrapping keeps each sweet hygienically sealed.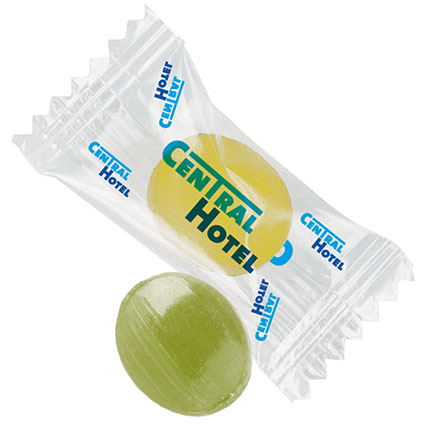 Individually flow wrapped sweets allow you to flaunt your logo on both sides of the packaging
You should think carefully about your branding options on flow wrapped sweets. Different coloured packaging is available and you can print more than just your logo. You might like to include a web address if you think your clients are likely to take a few sweets away with them! Different flavours of sweets are available so you will also need to decide whether to get one flavour or a selection. Strawberry, orange, lemon, banana and apple are just some of the flavours available.
Rock Sweets
Promotional rock sweets can come in flow wrap packaging, or they can be sold in individual twist wrappers. The great thing about rock sweets is that your branding can be included on the sweet itself! A huge range of corporate colours are available to suit any brand, and there also different flavours available.
We can pantone match your brand's colours to get your promotional rock sweets looking just right!
It is also possible to get sticks of rock with your brand name running through the middle! This is an unusual method of getting your brand across and is sure to be remembered. The bright colours of rock sweets will look appealing in a reception desk bowl and the cute, funky designs will ensure visitors take a closer look at your branding.
Jelly Sweets
Promotional jelly sweets can be either plain or sugar coated for an extra sweet crunch, and can be give out in individual flow wrappers or in packets. The great thing about jelly sweets is that jellies can be bespoke shaped to your branding needs, so if you wanted a sweet shaped like the first letter of your brand name, your logo, or anything else, you can have it! Jelly sweets are also available in a choice of flavours, including orange, raspberry, pineapple and kiwi.
Orange is one of the most popular flavours of jelly sweet and will go down a treat if kept on your reception desk
If choosing to use jelly sweets you should consider the fact that they usually expire after around 6 months, and that, as they contain gelatine, they might not be suitable for all dietary requirements. However, they do offer a brilliant branding opportunity thanks to the possibility of customising their shape and their wrappers. Jelly sweets are especially popular with kids, so are great if you run a family friendly business and want to appeal to adults and children.
Jelly Beans
Promotional jelly beans can come in individual packets printed with your branding, or in test tube style containers. The test tubes are especially good for displaying the different colours of the jelly beans which can be chosen to match your brand. If you go for packets of jelly beans, you can print the packet with your logo and brand name.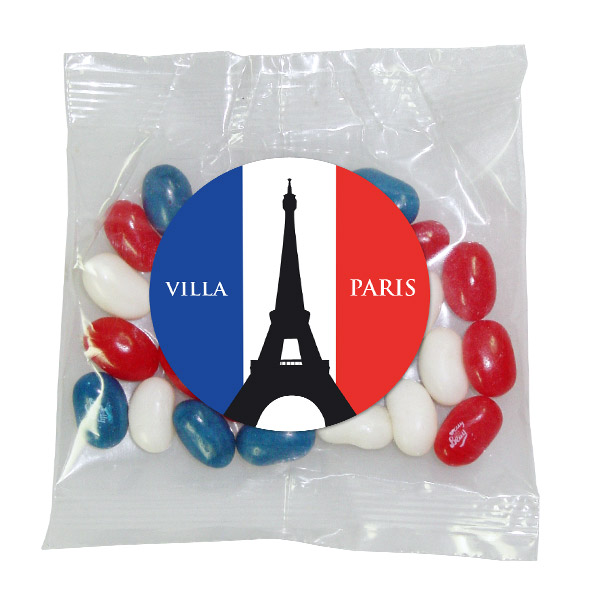 Choose the right coloured jelly beans for your brand - with lots of colours to choose from, it should be easy!
If you choose to promote your brand with jelly beans, you can choose between value mixed colour jelly beans, or Jelly Belly beans. Promotional Jelly Belly beans come in a range of 55 colours and flavours! If you want to wow clients with delicious and unusual tastes, these could be the best choice. On the other hand, value jelly beans are a great option if you are more interested in the branding on the packaging.
Chocolates
Individually wrapped neapolitan chocolates are a safe bet in the world of promotional sweets, as there is hardly anyone who doesn't like chocolate! They are also great in terms of branding options - you can print your logo and artwork on a paper wrapper, which can be done in full colour, and choose from different coloured foils to go underneath. The foils can be gold, silver, or a whole range of other colours like magenta and turquoise. It is also possible to foil block your wrappers, so that your branding is shiny and stands out.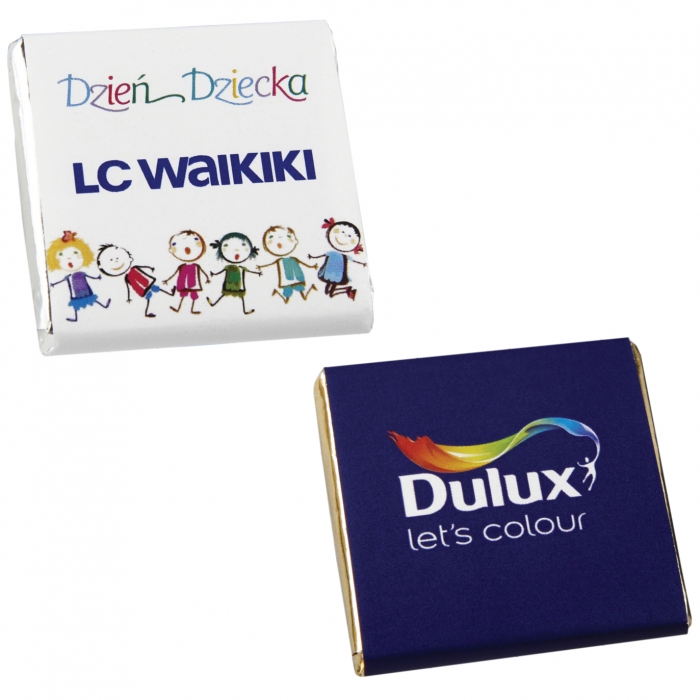 Neapolitan chocolates offer a wide, flat surface area for your branding
For promotional chocolate squares and neapolitans you can choose milk, dark or white chocolate, but there are also other flavours if you want to be more adventurous, including mint and orange. If you choose to use promotional chocolates you should remember that they need to be kept somewhere relatively cool to ensure they don't melt.
Biscuits
Promotional biscuits in wrappers are a more grown-up choice of sweet for your reception desk. You can choose from different kinds of biscuits to suit any taste, including spiced cookies, fortune cookies and chocolate wafers. These come with different kinds of wrappers, including see-through wrappers that allow you to see any branding that might be on the biscuit itself. You might also choose to have plain biscuits, with your branding solely on the packaging.
Promotional biscuits are ideal if you are more established or high-end brand, and want to appeal to business-people or older clients.
By having a bowl full of any of these sweet treats on your reception desk you will send a positive message to your customers that you've got their comfort and enjoyment in mind, and that you are a brand that cares for its own. This will result in a nicer office environment and, when combined with excellent service, will ensure your clients keep coming back to your business. Staff will also appreciate being able to indulge ocassionally, too!