Is there a sweeter way to grab your customers' attention than with chocolate? Our Neapolitan Chocolates offer an excellent opportunity to treat your customers and get creative with your promotional messages.
Even if you don't know the name, you'll be familiar with the look of Neapolitan Chocolates: small, delicious squares of chocolate, covered in a wrapper with plenty of space for a message, logo, contact details or even an image.
Here are a few ideas of how Neapolitan Chocolates can be used to promote your business and get your customers coming back for more. After all, who doesn't love chocolate?
Use Neapolitan Chocolates in a product or service launch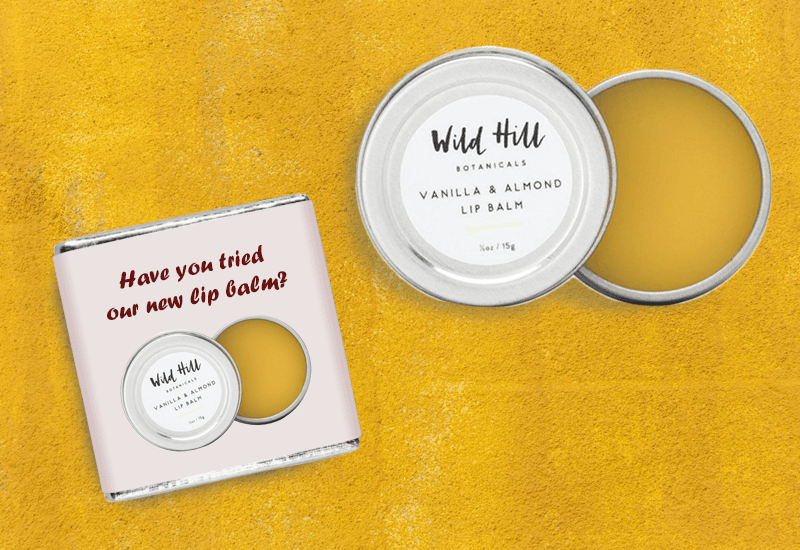 If you want your new product or service to stand out from your competitors, then Neapolitan Chocolates offer you a multitude of ways to get creative. They are the ideal size to include in a piece of direct mail, an invite to your launch event, or even the goody bag on the night.
When launching a new product, it's understandable that you want everything to be about that item. Why not include an image of your item on the chocolate wrapper? You could also write a small message that says exactly what is so special about your new product or service. A simple "Did you know about our new meeting rooms?" printed on a chocolate that is strategically placed in a waiting area can be a subtle way to make an announcement.
Say thank you with chocolate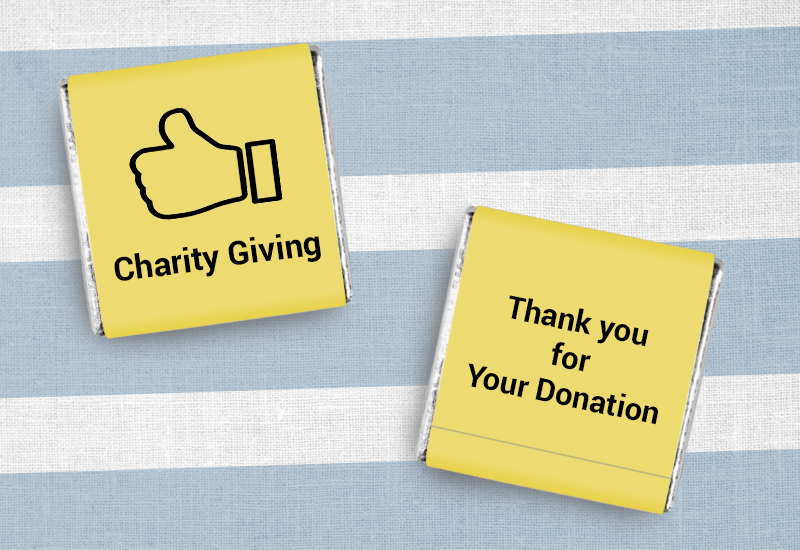 Customers remember a business that says thank you. A chocolate square is the perfect way to show your appreciation, whether that's to a customer who has eaten at your restaurant, visited your shop or donated to your cause.
With ample space for branding and text, there is enough room for an effective 'thank you' message. Don't forget that extra call to action such as a website address, discount code or telephone number; reminding your customers to come back for more or keep in touch.
Neapolitan Chocolates are foil wrapped to keep them fresh and tasty. There's no reason any customer should miss out on feeling valued.
Drive delegates to your Trade Show stand with Neapolitan Chocolates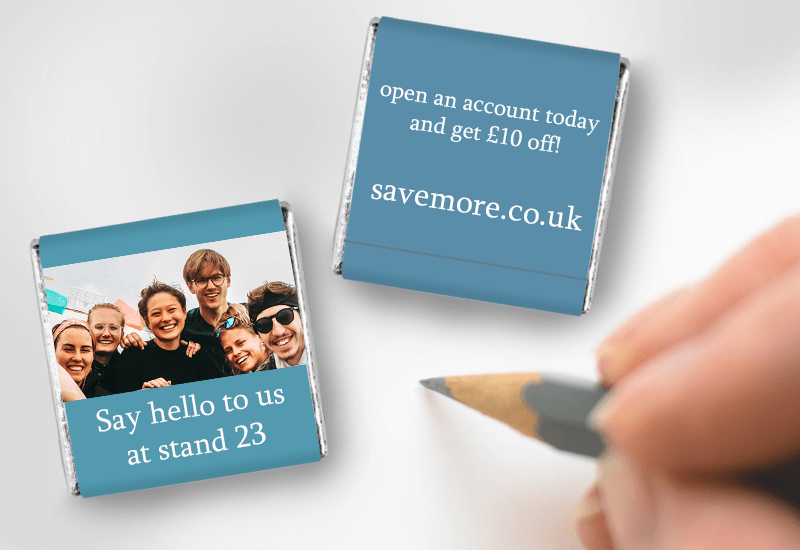 Ever noticed that some exhibition stands are more popular than others? It's often because they are giving something away. And what better giveaway than chocolate? But you need to make it count!
Milk chocolate is universally liked but did you know you can swap the flavour for any of the following: Dark, White, Orange or Mint – there is something for every palate.
Why not use Neapolitan Chocolates to direct people to your stand or to include a special offer to encourage delegates to use your services? These treats are a great way to invite people to your stand and then encourage them to come back!
Get noticed online with an off-line treat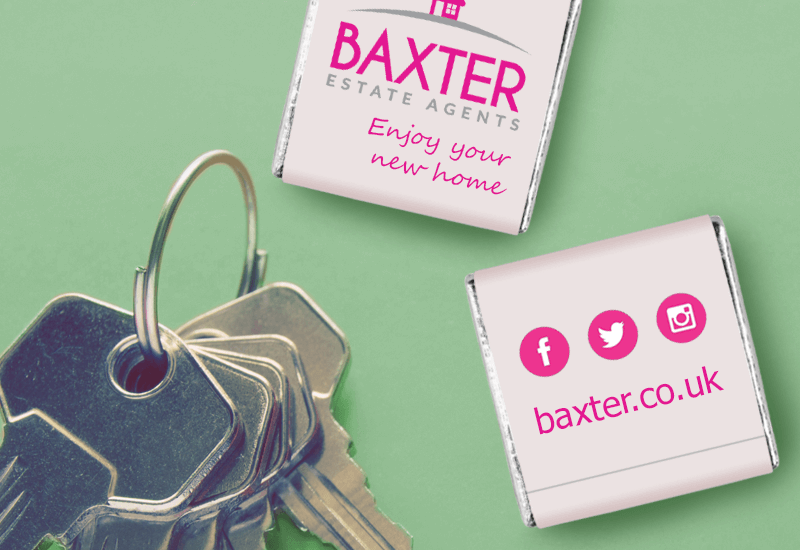 Because the wrappers of these chocolate treats are sizeable and you can print them with any design, make the most of the space! Including your social meadia links, website address or QR code can boost your online presence. Invite customers to share reviews or connect with your on social media - if it's done with tasty chocolates, people will be more likely to engage than with a leaflet.
On top of that, branded chocolates could make a perfect, low cost, free prize. If you want to ramp up your social media engagement, a Facebook competition with chocolate square giveaways will get people talking. If you have a new website, consider an incentive to drive traffic. Free chocolates to the first 100 visitors, sent with a creative mailer, is an original way to raise awareness. To make the effort worthwhile, make sure to include several chocolates in each package. This will also encourage sharing and get you even more exposure!
Use the wrapper space wisely to share your social media, website address or an extra incentive and help give your online presence a kick-start.
Keep customers sweet while they wait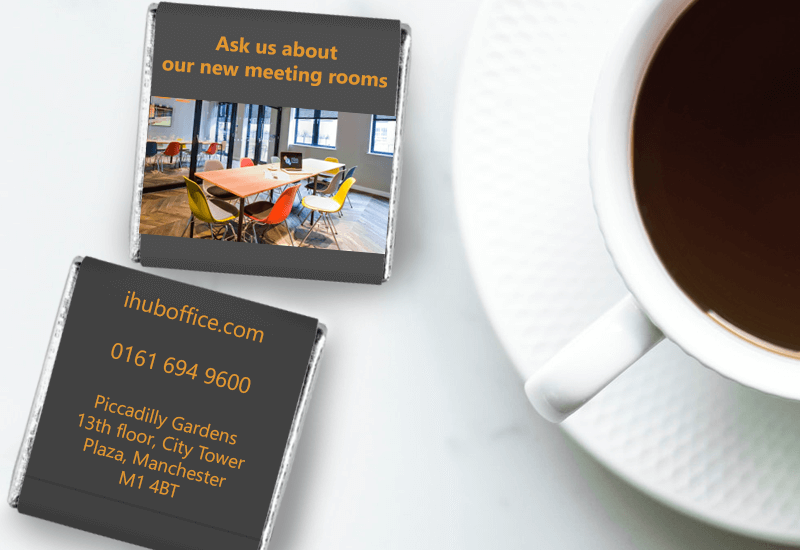 As clients and customers take a moment to sit in your waiting room, what better way to keep them occupied than complimentary chocolate? Sweet treats are ideal gifts to accompany a cup of coffee while they wait.
So much more innovative than a flyer, you can use this dwell time to capture them with your message, share your social media platforms and website address. It's an effective way to drive traffic to your website and encourage fresh engagement on social media.
Celebrate a special occasion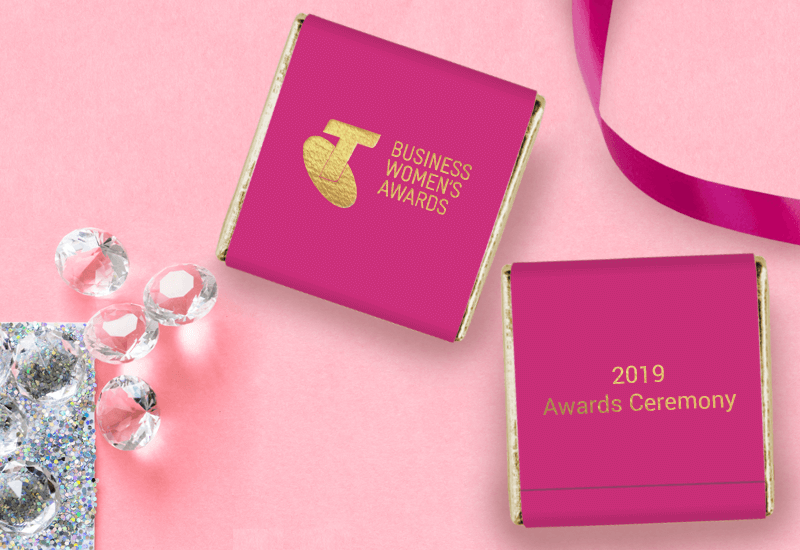 When you think about what makes a celebration, there's always chocolate involved. Neapolitan Chocolates make excellent wedding favours and are perfect for party bags with your own private message printed for your guests to enjoy.
They're also popular for glitzy awards evenings and are one of the few items that will be retained in a goody bag. The chocolate will probably last minutes, but not before your message or logo have been noticed.
There are also many branding configurations available, so take your pick!
Provide some festive cheer over Christmas with Neapolitan Chocolates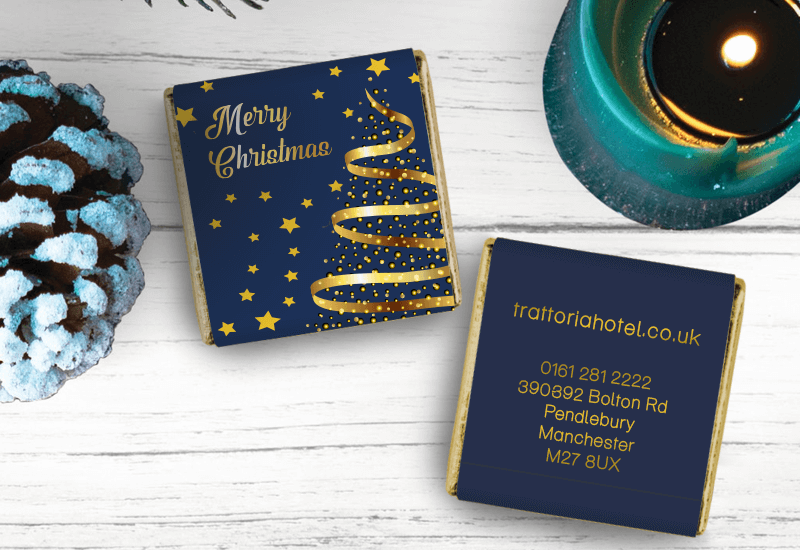 Christmas is the time to indulge. Baby-boomers might associate Neapolitan Chocolate and it's a great idea to bring a little nostalgia to the winterr holidays.
Including a Neapolitan Chocolate in your Christmas card is a great way to spread some festive cheer to your clients and stand out from the usual season greetings.
Did you know our large database of festive stock images makes it easy to select one that's right for you? Or, the wrapper can be designed to fit with your own, bespoke Christmas campaign. Make use of our free layout design service to make your gifts extra special. Your business is sure to be remembered well into the New Year.
Or why not celebrate other holidays with chocolate squares?
Neapolitans are not just for Christmas...
Romantic chocolates for Valentine's Day? Spooky treats for Halloween? A heart-felt message for Mother's Day? Whether you're celebrating Chinese New Year or Father's Day, Neapolitan Chocolates are a great way to piggy-back on national awareness days or seasonality. With a clever twist and a creative message, you can be remembered on these important days of the year.
Final Words
These are just a few of the possibilities available to you when using Neapolitan Chocolates. They are a powerful marketing tool giving your business the sugar rush it's craving. And remember, when you order through UK Corporate Gifts, you get access to our unparalleled customer service support. This includes a dedicated account manager that will help you from enquiry to delivery.
We can even turn your vision into reality by designing a layout to represent your brand and keep in line with your special occasion or time of year. Don't forget, we have plenty of festive and celebratory stock images if needed. If you're not the creative type but your audience is, just send us your text, logo, images or contact details and we'll suggest the best way to represent your message on your chocolates.
For more information about our Neapolitan Chocolate range, speak with a UK Corporate Gifts advisor on 01204 577 955.