Thriving mobile network Vodafone once rebuffed television and billboard advertising for a more personal marketing campaign, involving chocolaty treats in the shape of numbers - in a campaign developed by OgilvyOne Mumbai.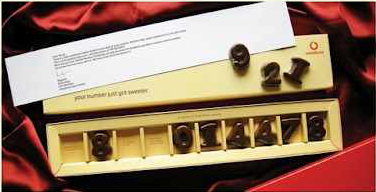 Chocolates can be easily moulded into number shapes, and much more
They sent these sweet indulgences to 500 clients who had temporarily used Vodafone's services for their competitive roaming charges, but who were currently using another network provider. Each customer was sent their own individual phone number, along with the message that their mobile numbers wouldn't change if they were to permanently switch networks, unlike the chocolates, which would be gratefully gobbled up by the recipients. After the campaign, 56 percent of those targeted switched to Vodafone, proving that sweet promotions definitely work.
If you want to take advantage of this effective marketing technique, why not get some chocolate shapes that suit your brand?